LIVE YOUR
STARTUP DREAM
Without quitting your day job
Stick with your current job or become an entrepreneur? You don't have to choose anymore. In the international bestseller The 10% Entrepreneur, I'll teach you how, by investing just 10% of your time and resources, you can become an entrepreneur while keeping a stable day job.

 Author, Entrepreneur, Speaker, and Explorer
Featured Articles and Press Coverage
Subscribe to our newsletter!
Subscribe to receive the latest tips, news and podcasts on FOMO, entrepreneurship, and a
free chapter of "The 10% Entrepreneur" book.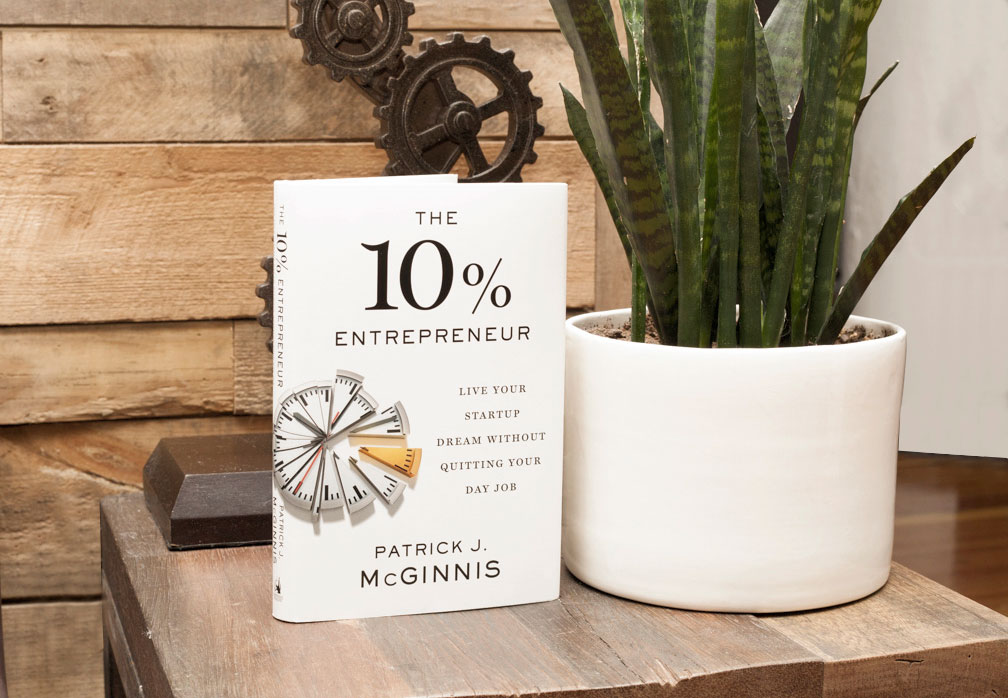 THE 10% ENTREPRENEUR
by Patrick McGinnis
You don't have to risk everything to become an entrepreneur.
""Clear, concise and forward-thinking, The 10% Entrepreneur dives deeper into the future of today's business world."
"For 4 years, while working a full time job, I was also a 10% Entrepreneur. I didn't know the phrase then, I just knew I had more money, more fun and more opportunities than I'd ever had in my life. If any of those sound like things you want more of, read this book!"
"Entrepreneurship is not one size fits all. It can take many shapes and forms. There's immense value to testing ideas or weaving entrepreneurial qualities into your life before taking the plunge. The 10% Entrepreneur will tell you how."
"We think of entrepreneurship as a big, scary thing, involving blind leaps of faith and sweeping acts of disruption, not for the faint of heart. Yet in today's ever-changing world, everyone needs to act more like an entrepreneur and take risks — or risk being left behind. In his debut book, McGinnis delivers a winning game-plan for assuming 10% more risk, more creativity and more (ad)venture in your everyday life for 100% more satisfaction. Entrepreneurship is a smart choice for everyone–and so is reading this book."
"In a shifting corporate landscape, entrepreneurship no longer has to mean all-or-nothing endeavors. Patrick McGinnis uses his own expertise as a "part-time entrepreneur" to illustrate a proven solution for you to become one, too."
"This book should be read by anyone who has ever dreamed of starting an entrepreneurial venture."
Start your entrepreneurial journey today
Become a 10% Entrepreneur in order to think like an entrepreneur 100% of the time
Social Media
Follow me on social media
Meet Patrick
How can I help you?
Set up a free meeting with me!
Once you have read The 10% Entrepreneur, send me a picture with the book by filling out the form below. Someone from the team will reach out to schedule a meeting.